24/h Service
 Book Online
 Contact Us
24 hour Car Recovery and vehicle breakdown recovery
CAR TOWING
CAR RECOVERY
Towing and Recovery services for all types of CARS - BIG AND SMALL. Contact a highly experienced towing company, based in Dublin, that will treat you and your beloved car the way you would treat it. We look after your property and get it where it needs to be - it's what we do!
ALL TOWING
ALL RECOVERY
Towing and Recovery breakdown services for all types of vehicle - big or small. We have the equipment and experience to cater for all types of recovery project– just contact us, we will do the rest.
SUV TOWING
NCT RECOVERY
NCT RECOVERY
Do you need a vehicle NCT'd but are no longer insured or just don't have the time? Our professional recovery services can take care of it all. Let us bring your vehicle to the test center, get it tested and return it to where you need it! Simple!
MOTORBIKE RECOVERY
ACCIDENT RECOVERY
ACCIDENT RECOVERY
Don't make a bad situation worse! We provide professional Towing and Recovery services to ensure that all types of crashed vehicles are removed safely and timely from the roadside. We are experienced with all types of accident recovery and will ensure that your day begins to look a little better.
SCRAP RECOVERY
SCRAP RECOVERY
Do you need to git rid of a vehicle? We can remove all types of scrap vehicle and provide end of life certification and more. Free us your space by getting a tried and tested towing professional to remove your old vehicles.
BREAKDOWN TOWING
BREAKDOWN RECOVERY
Our towing services are provided by expert mechanics. This is one of the reasons that we are different to other Dublin recovery companies. If your vehicle can be fixed at the side of the road, it will be! It is that simple.
JUMP STARTS AND MORE
We provide roadside assistance including jump starts and more. We can come to your home (or wherever you are) and ensure that you are quickly on your way. From flat batteries to flat tyres, trust our recovery and towing services to quickly have you on your way.
TOWING & RECOVERY FOR ALL VEHICLES IN DUBLIN
Towing & Recovery Services - fast. If you need a tow, look no further. Our service is quick, affordable and professional. Our towing services is for all - irrespective of make model or size of vehicle or location
All Areas of Dublin Covered
Car breakdown can happen anywhere, to anyone, without notice which is why we provide a 24hr service - anywhere. We can usually be with you within thirty minutes in Tallaght, Clondalkin, Rathfarnham, Inchicore, Milltown, Ranelagh, Rathmines, Harold's Cross, Dolphin's Barn, Inchicore, Islandbridge, Kilmainham, Merchants Quay, Portobello, South Circular Road, Bluebell, Terenure, Templeogue, Kimmage, Rathgar, Dundrum, Ballyfermot, Crumlin, Drimnagh, Greenhills, Perrystown, Walkinstown, Churchtown, Clonskeagh, Goatstown, Windy Arbour, Ballinteer, Ballyboden, Kilmashogue, Knocklyon, Rockbrook and Blanchardstown. We can usually have a tow truck to you within 30 minutes across North Dublin.
Our towing and recovery services will not be beat. We are fast and safe and can handle all types of vehicle recovery
If you need a qualified, professional mechanic, we are also happy to help! Get expert car repairs and more by contacting Leinster Auto.
Available twenty four hours a day, seven days a week
Easily Accessible Service
Plan to beat any quote
Available across the whole of Dublin and around the M50
Rapid Breakdown Recovery
Fully Insured and Certified
Committed to Excellence in Customer Care
Employ only the best technicians, engineers, driver and mechanics
Free pick up of Scrapped Cars
Nationwide delivery of any number of vehicles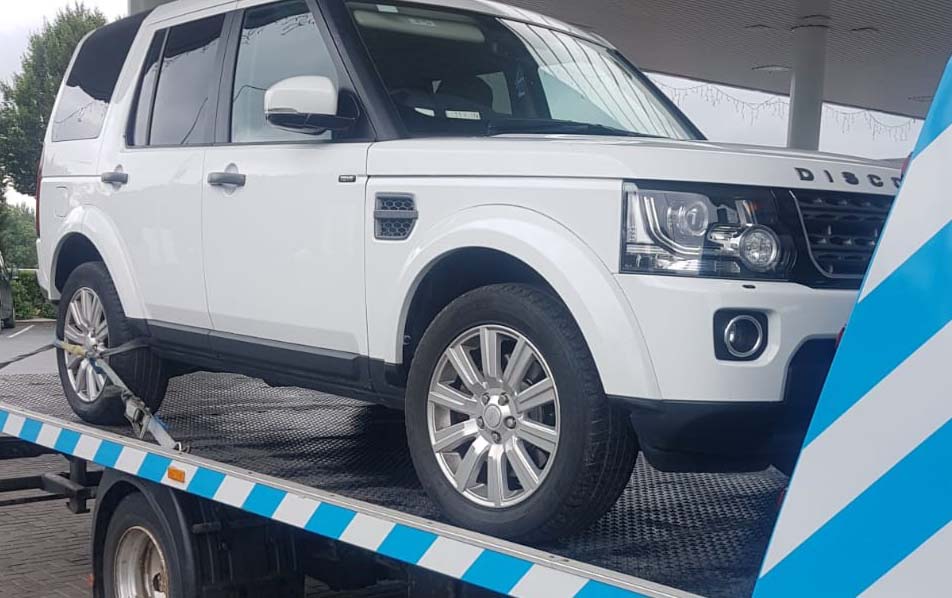 Rated 5 out of /5 based on the last 10 customer reviews
Car Towing Tallaght
Recover car from roadside after a breakdown
"Neville is fantastic. I have broke down 3 times over the last 6 months and each time he has got to me in less than twenty minutes! Twice he repaired the car there and then, the other time he towed the car, brought me to work and had the repaired car waiting for me when I finished!! I would recommend to all!"
Cathal in Hollystown
5 Star Service
Vehicle Breakdown Recovery
Recover car from roadside after a breakdown
Recovery for your Area!
Areas Covered, Dublin City And County, All Counties Nationwide 24/7
We serve South County, North Country Dublin, Dublin 1, Dublin 2, Dublin 14, Dublin 15, Dublin 16, Dublin 17, Dublin 5, Dublin 6, Dublin 7, Dublin 8, Dublin 9, Dublin 10,Dublin 18, Dublin 20, Dublin 22, Dublin 24, Dublin 3, Dublin 4, Dublin 11, Dublin 12, Dublin 13, and surrounding counties by request just complete the form and we'll get back to you in max 20 minutes. Alternatively, call us on 087 255 9345
Recovery Services... Fast!